Building Enclosure Meets Structure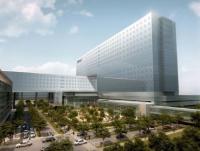 Please note: The attached file below contains a presentation in pdf format from the BEST5 conference. Open with Adobe Acrobat for best results.
The interaction of the building enclosure and the supporting structure is a unique relationship that is building specific. While a key function of the building envelope is used to express the aesthetics features of the building, it is expected to provide the main line of protection against the environmental elements. This unique requirement is coupled with an expressive structure that has its own requirements and movements.
This presentation addresses a unique project highlighting the interplay of structure and building envelope for the largest hospital in the USA with extensive large cantilevered structure supporting multiple floors above. The key aspects for consideration and integration are discussed during design, testing and installation phases.
Presented at:
Building Enclosure Science and Technology (BEST5) Conference
Published & professionally reviewed by:
BEST5 Technical Committee
Add comment
Log in
to post comments