A Case Study for Waterproofing Below-Grade Walls Shored with Continuous Soil Mix Technology Using Bentonite Waterproofing System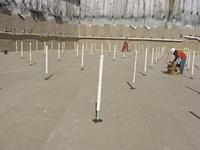 This paper will review the construction of a new commercial office complex on the Seattle Waterfront that required an innovative approach to the below grade shoring and waterproofing. The site is adjacent to existing historic unreinforced masonry buildings. The foundation extends over 40 below the water table. The excavation employed Continuous Soil Mix (CSM) construction to address subsurface obstructions and provide a more watertight shoring system to minimize the dewatering efforts.
CSM technology utilizes a set of cutters to break down and mix the native soils with a cement grout to create a soil-cement mixture with a high compressive strength. This paper will provide an overview of the CSM technology, the excavation and dewatering process, and the placement of soil tie-back anchors.
Presented at:
Building Enclosure Science & Technology (BEST3) Conference
Published & professionally reviewed by:
Morrison Hershfield Ltd.
Building Enclosure Technology & Environment Council (National Institute of Building Sciences)