A Digital Dérive: Exploring the Potential of a Crowdsourced Site Analysis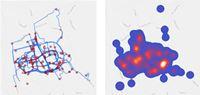 This paper describes the appropriation and adaptation of a technique for exploring and analyzing an urban environment – Guy Debord and the Situationist International's dérive. This technique, in its revised form, is being investigated as a tool for site analysis. This paper will describe the history, significance, and contemporary understanding of psychogeography and its cartographic representations, a specific methodology for (and outcomes of) a digital dérive, and the role of these cartographies in the design and transformation of the built environment.
This new method serves as a strategy for crowdsourcing the location of a temporary intervention in an introductory environmental design course offered to 150 students including architecture, landscape architecture, and city planning majors. A two-phase exploration gives students the opportunity to reflect on their immediate and surrounding environment, and to develop skills in mapping, cataloguing, representing, and abstracting those conditions.
keywords: geography, mapping, site, perception
Presented at:
ARCC 2017 Conference – Architecture of Complexity (Salt Lake City, UT)
Published & professionally reviewed by:
Architectural Research Centers Consortium (ARCC)
University of Utah
Add comment
Log in
to post comments