Energy Efficient or Healthy Buildings? How Dynamic Glazing Eliminates the Need to Choose.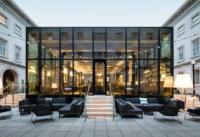 Please note: The attached file below contains a paper from the BEST5 conference that is linked to a conference presentation in pdf format. Open with Adobe Acrobat for best results.
Creating a high-performance building is as much about energy-efficiency as it is about supporting occupants' health and well-being. Research has shown access to natural daylighting and outdoor views have a positive biological impact and are important to human health; however, we often sacrifice that connection due to the misconception that buildings cannot be both energy efficient and healthy for the people inside. On the other hand, we often design buildings with the occupant in-mind with the intent to bring in daylight and provide outdoor views, but fail to effectively manage heat gain and glare.
In order to achieve comfort, occupants do what they must, leading to the common sight in many commercial buildings of "blinds down, lights on" which leads to poor design performance since much less daylight is admitted and must be augmented with electrical light, views are blocked or obscured and energy use increases.
The gap between "as designed" and "as-built" energy performance has been the subject of recent debate; however, this traditional trade-off between energy performance and delivering sufficient daylight and views, in a managed, comfortable manner no longer needs to hold true. Products are available on the marketplace, like dynamic glass, to provide building occupants with access to natural daylighting and unobstructed views of the outdoors while decreasing the building's reliance on HVAC and overhead electrical systems and increasing the building's overall energy efficiency.
Presented at:
Building Enclosure Science and Technology (BEST5) Conference
Published & professionally reviewed by:
BEST5 Technical Committee
Add comment
Log in
to post comments