The Existing Plaza: Considerations for Repair or Replacement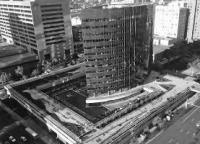 Why: A well-designed plaza is an invaluable feature. By adding functional space to the building exterior, plazas provide inviting areas that extend building use throughout the day and evening. As the needs of the owner and occupants change, plaza rehabilitation can incorporate new amenities and landscape elements to adapt to building use, with site features that anticipate and respond to the demands of management and tenants. In some cases, owners looking to maximize the value of their plaza may choose to undertake a major reconfiguration, incorporating amenities that create a striking appearance and improve functionality.
What: Preservation, restoration, rehabilitation, or renovation: depending upon the design intent, plaza projects fall within one of these categories. The choice of how to approach a plaza overhaul affects the scope, construction, use, and cost of the project, so it's important to identify the limitations and opportunities inherent to each of these strategies. For a plaza with historic or landmark status, proper stewardship may dictate preservation, and, if necessary, restoration to promote the longevity of what is likely an important community asset.
How: This article presents attributes to consider for restoring a landmark plaza, responding to code requirements, plazas as green roofs, waterproofing and drainage, aesthetics and performance, and anticipating maintenance needs. The article also lists a number of plaza designs that the author firm has created for different building types, as well as tips for employing fountains and planters.
Periodical:
Hoffmann Architects Journal
Published & professionally reviewed by: