Hypermodels: An Exploration of New Media Environments and Expansive Representation of Architecture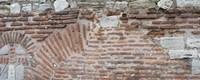 New modes of architectural representation have emerged with the advent of new digital media technologies offering immersive virtual environments. How can these technologies shape the less visible, and visual, aspects of architectural production?
The researcher proposes the notion of the hypermodel, a "hypertext version" of digital models that contains and 'opens up' to more than the physical parts of a building. Hypermodel is a connector of digital space and the physical world revealing the temporal expanse and informational depth of the virtual beyond the bounds of an architectural artifact. In this sense, the new medium also hints at and allows for novel collaborative methods.
The researchers discusses several examples of collaborative applications of virtual environments in the building industry and follows with a closer reading of a digital reconstruction project of an architectural heritage site.
Presented at:
2017 AIA / ACSA Intersections Symposium
Published & professionally reviewed by:
The American Institute of Architects
Association of Collegiate Schools of Architecture (ACSA)