The Impact of Stair and Elevator Design on Daily Exercise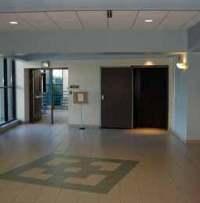 This study covers design elements that can potentially increase stair use. Four buildings with stairs ranging from two to five stories at two adjacent universities were examined.
From all four case studies, it appears that three dominant factors increase stair use.
• If the stairs are in plain sight next to well trafficked circulation and activity areas, then the stairs will be well used.
• Elevators that are mostly out of sight of the main circulation and main interior space are not as well used as stairs that are within sight of the same areas.
• Slow hydraulic elevators, even when prominently placed, appear inconveniently slow in comparison to stairs.
Presented at:
Design & Health World Congress & Exhibition (WCDH 2005, Frankfurt)
Published & professionally reviewed by:
The International Academy for Design and Health