Integrating Architectural Research within Interdisciplinary Global Studies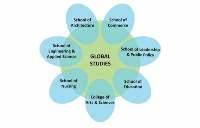 Architectural discourse regarding interdisciplinary research typically focuses on how other disciplines can inform architecture. This paper examines the value of the reverse process. Where can innovative architectural research enter within interdisciplinary programs and research outside the architecture discipline and profession?
This paper develops a case study based on two years of participant-observation research analyzing a new interdisciplinary major in Global Studies at the University of Virginia. Environmental issues were integrated within the major through a Global Environments and Sustainability concentration. The Global Environments + Sustainability approach establishes a translatable model to bring research in sustainable architecture and environmental design to the forefront of Global Studies.
keywords: Global Studies, Architecture, Sustainability, Interdisciplinary Research
Presented at:
ARCC 2015 Conference – The FUTURE of Architectural Research (Chicago, IL)
Published & professionally reviewed by:
Architectural Research Centers Consortium (ARCC)
Perkins+Will
University of Massachusetts Amherst