Karuna House : A Whole Building Design Guide Case Study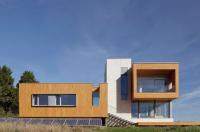 This entry contains a link to a detailed case study published by the Whole Building Design Guide. It is a 2014 Beyond Green Award recipient.
The owner of Karuna House, a leading proponent of smart climate policy at the national and international levels, built the home both as a model of high-performance building and a case study of the world's most demanding green building certifications. Karuna House is the first building in the world to earn the triple crown of Passive House, Minergie, and LEED certification: specifically, PHIUS+, Minergie-P-ECO, and LEED for Homes Platinum. Designed by Holst Architecture and built by Hammer & Hand, the home also fuses high design with high-performance construction, proving that super-efficient green homes can rival the beauty of any building. The Portland chapter of the American Institute of Architects recently bestowed a 2030 Challenge design award on the home in recognition of this design excellence. To achieve the three certifications and meet its net positive energy goals, the Karuna House combines an advanced building enclosure with optimized solar design to drive energy loads to very low levels. Remaining energy needs, including the charging of the client's electric car, are readily provided by a solar photovoltaic array of less than 10 kilowatts. The project's laser focus on energy performance (guided by its Passive House and Minergie-P components) is complemented by the broad sustainability and human health goals required by LEED and Minergie-ECO. Architect, Passive House consultant, and builder began working together early in the project to test performance of various design strategies, make adjustments to increase performance, re-test, evaluate anticipated performance against the various certification requirements, refine, and test again.
Published & professionally reviewed by:
Whole Building Design Guide technical committees