Mass Timber Design Research at the Nexus of Practice and the Academy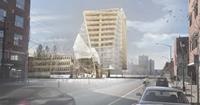 Mass timber is an emergent building assembly technology that advances themes of prefabrication, modularization, parametric design, and renewable materials in architectural practice and education. This paper explores mass timber methods utilized and knowledge generated from two design research activities related to teaching at the Academy and application with Practice.
The Washington State University (WSU) Institute for Sustainable Design – a collaboration between two design and engineering teaching units and one material science and engineering research unit in the WSU Voiland College of Engineering and Architecture – has developed two synchronous design vehicles to drive innovation with mass timber efforts: a studio course called the Integrated Design Experience to conduct teaching activities and the Integrated Design Lab to conduct research and outreach activities.
Presented at:
2015 AIA / ACSA Intersections Symposium
Published & professionally reviewed by:
The American Institute of Architects
Association of Collegiate Schools of Architecture (ACSA)
Add comment
Log in
to post comments