Mercy Emergency North / Mercy Clinic North : A Whole Building Design Guide Case Study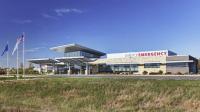 This entry contains a link to a detailed case study published by the Whole Building Design Guide.
The Mercy Emergency North / Mercy Clinic North is a new 23,995 sq.ft. mixed-use, free-standing emergency department (ED) and clinic building designed and constructed for Mercy Health System Corporation. Faced with countless challenges including climate, design, review, permitting, and the fast track of construction relying on timely inspections, this project began with concept plans in July of 2011 and realized a municipal certificate of occupancy in January, 2012. This project serves as a six month success story realized through the collaborative efforts of all stakeholders. This collaborative effort between the design, construction, and regulatory representatives resulted in the on-time delivery of a new emergency and clinic facility that met the owner's schedule. While serving Mercy Health System as the new emergency and clinic building, this facility meets the criteria of health, safety, and welfare in spite of the challenges that were met.
Introduced to this project by the owner in the summer of 2011, the State of Wisconsin Department of Health Services immediately recognized the need for a collaborative approach. It was only through a collaborative team effort of all stakeholders that delivering a new freestanding emergency department and clinic building for Mercy Health System could be realized. The State of Wisconsin Department of Health Services (DHS) under State statute is granted the regulatory authority over hospitals. Municipalities in Wisconsin are granted home rule authority under State statute. Specific to building construction, municipalities maintain the right to permit and inspect construction under their jurisdiction. Based on State law, hospital buildings are reviewed and inspected by the Department of Health Services; this is based on the regulatory model that is representative of these facilities. At the municipal level, the health, safety, and welfare are based on the performance criteria outlined by the commercial building code as well as municipal ordinance.
Published & professionally reviewed by:
Whole Building Design Guide technical committees