One and Two Potomac Yard : A Whole Building Design Guide Case Study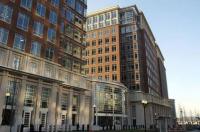 This entry contains a link to a detailed case study published by the Whole Building Design Guide.
One and Two Potomac Yard represent one of the first "green," new speculative office building projects in the Washington, DC area. The project is located on a formerly abandoned railroad yard in Arlington, Virginia. Within this urban setting, the two twelve-story buildings total 654,000 SF and consist of office and retail spaces as well as a fitness center for use by building occupants. One and Two Potomac Yard has earned LEED (Leadership in Energy and Environmental Design) Green Building Rating System® Gold for New Commercial Construction (NC) certification.
Construction of the buildings began in 2004 and was completed in May 2006. Recognizing the complexity of the project, Crescent Resources, LLC, the developers, set out to form a team of experienced professionals to develop designs for their first class buildings. Early on, they involved an Environmental Building Consultant and a Commissioning Authority to educate the design team about sustainable design and provide assistance on potential LEED items. Throughout the delivery process, they were also forthcoming with information, which helped foster a cooperative relationship with the lessee, the U.S. General Services Administration (GSA), and the lead tenant, the U.S. Environmental Protection Agency (EPA) in the review of the project. As a result, One and Two Potomac Yard exemplify a balance of function, cost, security, and sustainability.
Published & professionally reviewed by:
Whole Building Design Guide technical committees