Passageways / Portes et Passages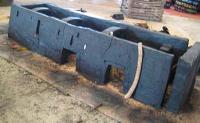 Passageways (known as Portes et Passages in Senegal, Africa) is an interdisciplinary association made up of artists, academics, architects, scientists, and related professionals based in and outside of Senegal, Africa, promoting "holistic development" throughout West Africa. "Holistic" is defined as the accentuation of the integral relationship between the various aspects of society including environmental, technological, cultural, and social. Passageways is presently developing a Holistic Art Center in Mbodiene, a rural area of Senegal.
The targeted project for this proposal is the design and construction of the first model building, which will serve as the nucleus for all of the Holistic Art Center's activities; incorporating aspects of the utilitarian elements of all subsequent buildings in order to facilitate immediate functioning of the establishment. The primary focus of this initiative is environmental, the secondary is technological. The approach seeks to make use of local, recycled and natural resources and the incorporation of the latest in renewable energy technology with a focus on self-sufficiency (e.g., wells, irrigation systems, composting toilets, biogas, passive solar and renewable energy).
Published & professionally reviewed by:
The American Institute of Architects