Project profile: Brock Environmental Center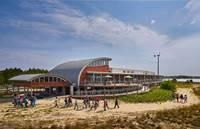 The Brock Environmental Center serves as the hub for the Chesapeake Bay Foundation's (CBF) Hampton Road office, supporting their education, advocacy, and restoration initiatives. The Center provides offices for CBF and partner groups, meeting rooms, and an 80-seat conference room designed to express CBF's mission of collaboration to protect the Chesapeake Bay.
Locating the Center on an ecologically-sensitive site allowed CBF to implement its entire mission in one location, but necessitated appropriate environmental goals: to protect, preserve, and celebrate this setting, creating a design of its place, while simultaneously showcasing technologies that contribute to net-zero energy, water, and waste.
The design expresses these goals. The curved building form responds to the nearby shoreline, maximizes daylight, and embraces passive solar principles. Prominent, curving roofs recall forms of the site's wind-swept oaks, the wings of a gull, and the protective shell of an oyster, while also embodying rainwater collection. The material palette references the site's colors and textures– zinc shingles recall fish scales, cypress cladding reinforces the site's colors and horizontality, and metals mimic the glistening Bay. Outdoor spaces allow for a reduction in built area, while connecting occupants to the site. A south-facing porch doubles as outdoor workspace. A prominent, outdoor classroom hosts thousands of students each year.
Brock Environmental Center; Virginia Beach, Virginia; SmithGroupJJR
Building program type(s): Education–General, Office–10,000 sq ft, Public Assembly–General
(2017 AIA COTE Top Ten award recipient; 2017 AIA COTE Top Ten Plus honor for exceptional post-occupancy performance)
Published & professionally reviewed by:
The American Institute of Architects