Project profile: Exploratorium at Pier 15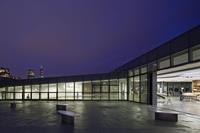 The Exploratorium, an interactive science museum focused on hands-on exhibits of natural phenomena, demonstrates innovation and sustainability in its design and construction. They moved to this new location, carefully restoring the historic Pier 15 on San Francisco's downtown waterfront. Visitors can experience 80,000 square feet of science exhibits in the historic structure, with cafes and event space located in the contrasting modern glazed observatory with unobstructed views of San Francisco Bay. The building also offers a theatre, more than a dozen classrooms, labs, teacher training rooms, wood and metal workshops, two retail stores, offices, and a large outdoor plaza.
The building takes advantage of the historic pier shed's natural lighting. The 800-foot-long roof accommodated a 1.3 MW PV array to power the all-electric building. The water of the bay is used for cooling and heating. Materials were used that are both sustainable and durable enough to withstand a harsh maritime climate. The project is certified LEED Platinum and is close to reaching its goal of being the country's largest Net Zero energy museum and an industry model for what is possible in contemporary museums.
Building program type(s): Education – General, Food Service Restaurant/Cafeteria, Public Assembly – Entertainment/Culture, Retail Store
Exploratorium at Pier 15; San Francisco, California; EHDD
(2016 AIA COTE Top Ten award recipient)
Published & professionally reviewed by:
The American Institute of Architects
More Like This
Add comment
Log in
to post comments