Project profile: Jacobs Institute for Design Innovation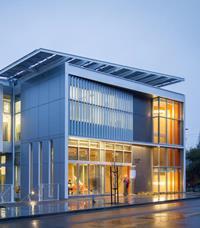 Founded on the conviction that design can help address some of society's most pressing challenges, the Jacobs Institute for Design Innovation at UC Berkeley is devoted to introducing sustainable design innovation at the core of university life. The project provides a new interdisciplinary hub for students and teachers from across the university who work at the intersection of design and technology. It is designed as both a collaborative, project-based educational space and a symbol to the region of the University's commitment to sustainable innovation, modelling high-density / low-carbon living and learning by reducing energy use 90% below national baseline.
The program, intended to accommodate up to 2,000 students per semester, includes flexible design studios, project rooms, support spaces, and fabrication equipment rooms containing a variety of rapid prototyping tools and equipment.
Building program type(s): Education – College/University (campus-level)
Jacobs Institute for Design Innovation; Berkeley, California; Leddy Maytum Stacy Architects
(2016 AIA COTE Top Ten award recipient)
Published & professionally reviewed by:
The American Institute of Architects
More Like This
Add comment
Log in
to post comments