Project profile: Manhattan Districts 1/2/5 Garage & Spring Street Salt Shed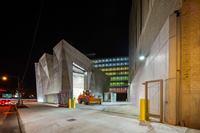 The Garage and Salt Shed celebrate the role of civic infrastructure by integrating innovative architectural design with sustainability and a sensitivity to the urban context. The building is wrapped in a custom perforated double-skin façade that reduces solar gain while allowing daylight and views in personnel areas. The 1.5 acre extensive green roof reduces heat-island effect, promotes biodiversity, and filters waste steam condensate and rainwater allowing it to be reused for truck wash. The projects are also benchmarks for NYC's Active Design program, which promotes the health and fitness of occupants through building design.
This pair of public buildings, that serves close to 300,000 residents, are the home for 150 sanitation vehicles, 3 districts' equipment including front-end loaders, salt spreaders, heavy-equipment wreckers, personnel vehicles, separate vehicle wash, and 250 workers who have offices, locker rooms, training, and lunch rooms for each district, centralized fueling and repair facilities and 5,000 tons of salt for winter snow clearing.
Innovative architectural design components were integrated for their contribution to sustainability goals, promotion of employee health and wellbeing, and response to the urban context.
The end result was a pair of buildings with a smaller volume to mechanically ventilate, a contextual massing, and elements of urban delight and curiosity.
Manhattan Districts 1/2/5 Garage & Spring Street Salt Shed; New York, New York; Dattner Architects and WXY architecture + urban design
Building program type(s): Municipal vehicle maintenance garage, Offices 425,000 sf total
(2017 AIA COTE Top Ten award recipient)
Published & professionally reviewed by:
The American Institute of Architects
More Like This
Add comment
Log in
to post comments