Project profile: University of Wyoming - Visual Arts Facility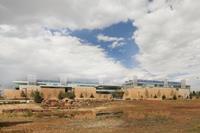 The Visual Arts Facility (VAF) consolidates the fine arts program from its scattered locations throughout the campus. The building provides a teaching and learning environment that is both state-of-the-art in occupational safety and in its concern for discharge of pollutants from building. The roof area is fitted with one of the largest solar evacuated tube installations in the U.S. Heat flows from the evacuated tubes to support the hydronic radiant floors, domestic hot water, and pretreat outside air for ventilation. The building was oriented and shaped through a process of studying the sun's interaction with interior spaces, simultaneously distributing reflected light while eliminating solar gain.
Complementing the archival and display nature of the museum, the VAF includes facilities for art history instruction along with studios and labs for ceramics, sculpture, painting, drawing, small metals, printmaking, graphic design, and digital arts. Faculty studios, public gathering spaces, critique and display areas, and a gallery that converts to a black box address the additional needs of the art department.
Building program type(s): Education – College/University (campus-level)
University of Wyoming - Visual Arts Facility; Laramie, Wyoming; Hacker Architects and Malone Belton Able PC
(2016 AIA COTE Top Ten award recipient)
Published & professionally reviewed by:
The American Institute of Architects
More Like This
Add comment
Log in
to post comments