Rain & Groundwater Management: Reducing the Risk of Water Intrusion & Damage (TechNote)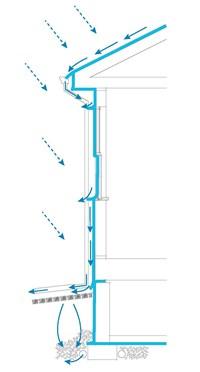 This TechNote provides an overview of essential water management measures and building code provisions that builders may consider to minimize the risks of water intrusion. The focus is on rain and groundwater control practices for foundation and above-grade wall construction. It includes design considerations, best practices, and recommendations for assuring consistent quality of moisture control measures.
TechNotes: Best Practices for Home Builders
In recent years, building codes for energy efficiency and related standards have been amended to require greater amounts of insulation in exterior wall and roof assemblies, including continuous insulation on exterior walls, higher levels of building air tightness, and mechanical ventilation.
NAHB's Construction Technology Research Subcommittee worked with Home Innovation Research Lab to develop these TechNotes to help builders navigate these new code requirements and implement best practices to avoid building performance issues related to interior humidity levels, condensation in wall and roof assemblies, and interior air quality.
Published & professionally reviewed by:
National Association of Home Builders (NAHB)
Add comment
Log in
to post comments