The Renwick Gallery of the Smithsonian American Art Museum : A Whole Building Design Guide Case Study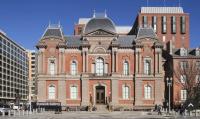 This entry contains a link to a detailed case study published by the Whole Building Design Guide. It is a 2016 Beyond Green Award recipient.
The $30 million major renovation of The Renwick Gallery of the Smithsonian American Art Museum preserves and respects the historic character and building envelope of the National Historic Landmark, while modernizing infrastructure with state-of-the-art sustainable and energy-efficient technologies. The 34,000 SF Renwick Gallery, situated across from the White House and built in 1859 to the design of architect James Renwick, Jr. as the original Corcoran Gallery of Art, is a principal structure in the Smithsonian Institution portfolio and the first purpose-built art museum in America.
The structure was last renovated in 1967–1972, when it was restored as an art gallery after decades of serving other purposes. Since that major renovation, when the building's first modern systems were installed, numerous incremental improvements had been made, including exterior masonry repair and restoration, interior exhibit gallery improvements, and other infrastructure repairs. However, most of the existing building systems dating to the renovation in 1967–72 had reached or surpassed their useful service, and were difficult to access for maintenance and repair.
Rather than relying on rote historic preservation, the design employs an artful interpretation balancing heavy infrastructure improvements with a light architectural touch, executed with care to ensure the building continues to be an asset for the nation for years to come. The historic features are not impacted—only enhanced with modern, high-efficiency, and cost-effective infrastructure systems. Once considered a "hidden gem," the newly reopened space has become a popular destination, having exceeded previous annual visitation averages within six weeks of reopening.
Published & professionally reviewed by:
Whole Building Design Guide technical committees