Role of the Physical and Social Environment in Promoting Health, Safety, and Effectiveness in the Healthcare Workplace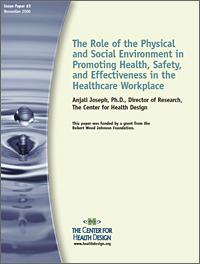 Objective: To examine how the physical environment, along with other factors such as culture and social support, impact (a) the health and safety of the care team, (b) effectiveness of the healthcare team in providing care and preventing medical errors, and (c) patient and practitioner satisfaction with the experience of giving and receiving care.
Methods: Literature review of peer-reviewed journal articles and research reports published in medicine, nursing, psychology, ergonomics, and architecture periodicals and books. Different combinations of keywords were used to search for articles including workforce, nurses, healthcare team, work environments, ergonomics, staff health, staff safety, medical errors, transfers, and communication.
Key findings: There is an urgent need to address the inherent problems in the healthcare workplace that lead to staff injuries and hospital-acquired infections, medical errors, operational failures, and wastage. The physical environment plays an important role in improving the health and safety for staff, increasing effectiveness in providing care, reducing errors, and increasing job satisfaction. These improved outcomes may, in turn, help in reducing staff turnover and increase retention - two key factors related to providing quality care in hospitals. However, it has become increasingly clear that efforts to improve the physical environment alone are not likely to help an organization achieve its goals without a complementary shift in work culture and work practices.
Proper design of healthcare settings, along with a culture that prioritizes the health and safety of the care team through its policies and values, can reduce the risk of disease and injury to hospital staff and provide the necessary support needed to perform critical tasks. Also, it is important to identify core systemic and facility design factors that lead to failures and wastage in healthcare, and then develop new solutions (e.g. acuity adaptability, standardized rooms) that address these problems within the context of culture changes and evolving models of care.
Conclusions: The physical environment along with social support, organizational culture, and technology can play an important role in improving health, safety, effectiveness and satisfaction of the healthcare team.
Published & professionally reviewed by:
The Center for Health Design