Simulation of Dynamic Daylighting and Glare Control Systems for a Six-Story Net Zero Energy Office Building in Seattle, WA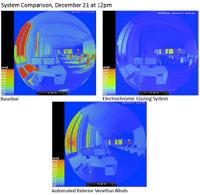 As building owners and designers focus on meeting net-zero energy use, the realization of lighting power savings and a high-quality visual environment through the use of daylight becomes critical. Central to this effort is maintaining persistent visual comfort while meeting illuminance targets across variable sun angles and sky conditions. For these reasons, weather station controlled dynamic daylighting and glare control systems may provide the most persistent daylight performance in spaces where direct sunlight is present during large portions of the occupied times. Dynamic facade systems have the possibility of maintaining visual comfort while achieving maximum diffuse daylight performance over time. These systems also offer the possibility of being deployed when needed and retracting or reverting to a state of maximum visible light transmittance without user intervention when glare or unwanted direct sunlight is no longer present.
This paper presents simulation and analysis conducted by the University of Washington Integrated Design Lab (UW IDL) of short time-step luminance and illuminance performance of automated dynamic daylighting systems including an exterior venetian blind system and a variable transmittance electrochromic glazing system deployed in a planned net-zero office building in Seattle, WA.
Presented at:
Building Enclosure Science & Technology (BEST3) Conference
Published & professionally reviewed by:
University of Washington
Building Enclosure Technology & Environment Council (National Institute of Building Sciences)