Taking the Field: Advancing Energy and Water Efficiency in Sports Venues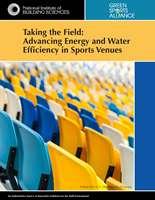 Why: Stadiums and arenas are essential components in the fabric of sports and they serve a significant role in communities across America. At the same time, many communities, organizations and sectors of the economy are prioritizing the need to reduce energy and water use. By bringing together expectations for energy and water efficiency goals with the powerful influence of sports, American communities can achieve significant savings while also inspiring an enormous number of fans to take action.
What: By many accounts, stadiums and arenas represent an important link to the nation's values and priorities. Over 240 million fans visit these venues annually and viewers spend 31 billion hours watching sporting events on TV each year. Total square footage of these facilities easily reaches into the hundreds of millions. With at least 1,500 such sports facilities around the country—many bearing the names of iconic brands or the communities they are tied to, and sports teams and clubs employing nearly 60,000 people and generate $22.6 billion in annual revenue—the sports sector is a significant influence on the national economy and culture. Many of these venues and teams have undertaken actions to improve energy and water performance of venues, reduce operating costs and engage their communities. For example, over six years, the Seattle mariners saved approximately $1.5 million in utility costs through investments in energy and water savings. The University of Minnesota saves $412,000 annual through the implementation of energy conservation measures.
How: This report identifies the potential impact that addressing sports venues can have on reducing energy and water use nationwide and sets a path forward to achieving energy and water-efficient sports venues. The report begins with an overview of the extent of sports venues in the United States then looks at what the progress sports venues have made to this point. "Activities to Date" summarizes the significant efforts to reduce energy and water use already underway across multiple venue types and within leagues and conferences. While progress is being made, challenges still remain in realizing widespread improvement. These challenges are covered in the "Challenges to Overcome" section. Finally, in the "Driving Forward" section, the report identifies a path forward, building off the lessons learned by industry leaders and best practices from other sectors.
Published & professionally reviewed by:
Add comment
Log in
to post comments