United Nations Headquarters : A Whole Building Design Guide Case Study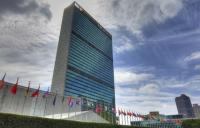 This entry contains a link to a detailed case study published by the Whole Building Design Guide. It is a 2015 Beyond Green Award Recipient.
The United Nations (UN) Capital Master plan was a complete renovation of the United Nations Headquarters in New York City. The renovation had three major goals:
1. The Secretariat 40-Story Office Tower
2. The Conference Building
3. The Contiguous Basements and Infrastructure
Originally built in 1950, the UN had aged and had inefficient infrastructure, code compliance issues, and asbestos containing materials. The renovation construction began in 2008 and was completed in June 2015. At its height, this $2B renovation employed over 650 contractors and design/construction professionals. The project has achieved an overall LEED Gold for the campus and LEED Platinum for the Secretariat. The campus is targeted to achieve 50% energy savings over the existing. Throughout the renovation 50% of the campus remained occupied, requiring careful phasing of the new infrastructure.
Published & professionally reviewed by:
Whole Building Design Guide technical committees