United States Institute of Peace (USIP) : A Whole Building Design Guide Case Study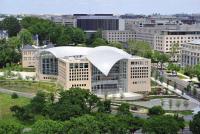 This entry contains a link to a detailed case study published by the Whole Building Design Guide.
The U.S. Institute of Peace (USIP) was created by the U.S. Congress in 1984, in the shadow of the Vietnam War and at a time of ongoing Cold War tensions. Its mission is to prevent, mitigate, and resolve violent conflicts around the world by engaging directly in conflict zones and providing analysis, education, and resources to those working for peace. The vision of the Institute is a world without violent conflict. During its initial two decades, the Institute operated without a permanent facility, in nondescript commercial office space. But as the work of the Institute demonstrated its value to the country, Congress concluded that the organization warranted a permanent facility at a significant location in the national landscape.
When discussions first began in 1992 to launch the new USIP Headquarters in Washington, DC, a vision of the future began, not only for the advancement of international peacebuilding, but a strong commitment to a design that would include environmentally sustainable features and technology, setting the tone and serving as a model for future federal facilities.
The project, a 254,000 gsf, five-story facility designed by internationally renowned architect Moshe Safdie and built by Clark Construction, had an initial goal to achieve LEED Certification under the U.S. Green Building Council's rating system for New Construction. But through the support and teamwork between the Institute's project team, the architect, and Clark Construction, a "whole building" design approach was taken, and USIP surpassed its initial goal and achieved LEED Gold Certification when it opened in March 2011.
The whole building approach also helped to meet the economic and environmental interests of all groups involved. The project quickly launched as a leader in implementing sustainable and cost-effective design, joining the ranks of federal sustainable buildings, efforts that are paying off—literally. The USIP Building performs 23.16 % better than ASHRAE 90.1-1999 requirements using the LEED Energy Cost Budget methodology which also earned the project 2 LEED points.
Published & professionally reviewed by:
Whole Building Design Guide technical committees