When Performance Informs Design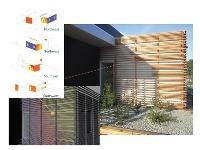 Does form and aesthetic decision-making take precedence over performance considerations, or is it possible that performance might inform design? And if performance can inform design, can it be achieved in a manner that is also delightful to the human user?
This paper highlights undergraduate thesis and design/build projects which focused on the investigation of performative material systems as part of a larger design challenge. These projects identified a particular environmental necessity based on the project situation (i.e., the need for water, the need for cleaner air).
Inspired by natural systems or by emerging materials engineering, the students used multi-modal methods to explore their design ideas (i.e., parametric digital models; physical models at multiple scales; simple as well as complex math), ultimately resulting in an enhanced performative system that in turn influenced overall building form.
In each case, it was performance that informed design, while simultaneously striving to appeal to the senses through an exploration of beauty.
Presented at:
2018 AIA / ACSA Intersections Symposium on Design and Resilience
Published & professionally reviewed by:
The American Institute of Architects (AIA)
Association of Collegiate Schools of Architecture (ACSA)