Building Performance Estimation: Facade Visual Information-driven Benchmark Model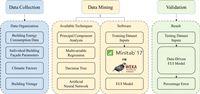 The goal of this paper is to investigate and determine the significant impact of building façade information (i.e., basic façade features), as well as climatic impact, on building energy performance.
A façade visual information-driven benchmark model was developed as a building energy use intensity estimation baseline. It was shown that it is capable and feasible to use the façade visual information as the building key performance indicator for estimating the building energy use, which is a fast and straightforward way to predict the energy use at an urban scale.
keywords: Facade Features, Data-Driven Model, Benchmarking, EUI Estimation, Energy Performance
Presented at:
ARCC 2017 Conference – Architecture of Complexity (Salt Lake City, UT)
Published & professionally reviewed by:
Architectural Research Centers Consortium (ARCC)
University of Utah