Caring for Glazed Architectural Terra Cotta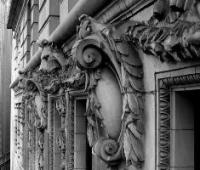 Why: Glazed architectural terra cotta was popular in the late nineteenth century as a versatile, lightweight, economical, and adaptable alternative to stone. Composed of hollow, hand-cast units, glazed terra cotta adorns a number of noteworthy turn-of-the-century buildings, including the Woolworth Building in New York and the Wrigley Building in Chicago. As styles changed over time and production costs increased, terra cotta fell into disuse; in the late 1800s, there were more than 100 terra cotta manufacturers in the U.S.; fewer than a dozen remain. The scarcity of qualified manufacturers and skilled craftspeople can present challenges to the ongoing maintenance and restoration of historic terra cotta.
What: When properly installed and maintained, terra cotta is a durable, long-lasting material. Most significant problems are due to inappropriate repairs, lack of maintenance, or both. By following good preservation practices, with attention to detail and workmanship on par with the original design and craftsmanship, building owners and design professionals can achieve lasting restoration solutions to terra cotta deterioration, as outlined in this article.
How: This article discusses fabrication and construction of terra cotta, and explains the major causes of its deterioration: moisture infiltration, resultant corrosion if embedded steel, structural and thermal movement, and improper repairs It explains proper maintenance and repair, including in-kind replacement and substitute material replacement, which can press precast concrete, glass-fiber reinforced concrete or glass-fiber-reinforced plastic.
Periodical:
Hoffmann Architects Journal
Published & professionally reviewed by: