Center for Sustainable Landscapes : A Whole Building Deign Guide Case Study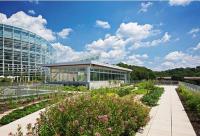 This entry contains a link to a detailed case study published by the Whole Building Design Guide. It is a 2015 Beyond Green Award Recipient.
The 24,350 sf. Center for Sustainable Landscapes (CSL) at Phipps Conservatory and Botanical Gardens was conceived as a world class building that provides both a home for administrative and classroom functions and a tool to further the institution's stated mission, "to advance sustainability and promote human and environmental well-being through action and research." The project affords an extraordinary opportunity to demonstrate the positive impact that buildings can have on the environment.
The result of a unique facilitated integrated design process, the CSL generates all its own energy, captures and treats all water on-site, and is the first and only project to attain the planet's highest sustainable building certifications:
Living Building Challenge™, the world's most rigorous green building standard
LEED® Platinum—highest points awarded under version 2.2
First and only 4 Star Sustainable SITES™ project (pilot)
First and only WELLTM Platinum Building
Starting with a dilapidated brownfield which was once used as a fueling and supply station for the City of Pittsburgh's Department of Public Works, the 2.9-acre site now hosts one of the world's greenest buildings, a landscape of native plants, and a slate of science education programs held in indoor and outdoor classroom spaces to foster the growth of tomorrow's environmental stewards. As part of the public guest experience at Phipps, which attracts more than 350,000 visitors a year, the CSL maximizes public interaction with sustainable technology.
Published & professionally reviewed by:
Whole Building Design Guide technical committees