Consumer Perceptions of the Healthcare Environment: An Investigation to Determine What Matters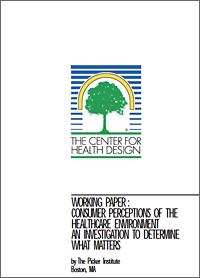 One perspective on the physical environment of health care is often overlooked and poorly understood - the patient's. What do patients experience when they go to a doctor's office, a hospital, or a nursing home? What matters to them most? How does the physical environment affect their and their families' experiences? To answer these questions, The Center for Health Design and The Picker Institute went directly to the primary source.
Throughout health care, patients and family members are increasingly recognized as the "experts" about the subjective quality of their experience -- what matters, what makes them feel better, and what they need to help them recover, heal, and adapt to significant changes in their lives. So, too, as we work to create "lifeenhancing" environments in healthcare, we must understand how patients and their families experience those environments and what it is about them that matters to them.
What follows is a report about the first phase of a joint project to explore patients' perceptions about the physical environment of health care and a summary of the project's preliminary findings.
Published & professionally reviewed by:
The Center for Health Design
Add comment
Log in
to post comments