Creating Our Own Ladder to Climb: Architects Setting Policy Using the Climate Stabilization Triangle Method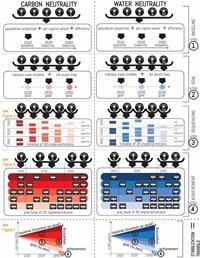 This paper focuses on the stabilization triangle method to solve for carbon and water neutrality for the University of Arizona (UA) campus by 2050. The paper starts with a discussion of the American College and University Presidents' Climate Commitment (ACUPCC) and its implementation challenges. Then, carbon and water neutrality are defined. Next, the stabilization triangle method is outlined using the case study of a UA architecture studio course. The paper concludes with a discussion of the opportunities, challenges, and potential impact of the stabilization triangle method on architecture pedagogy and ACUPCC signatory campuses. The paper argues that architecture students learn to orchestrate physical change through policy mandates and incentives and ACUPCC campuses are given actionable plans to bridge from goals to tangible implementation.
This paper outlines how architectural pedagogy can support ACUPCC campus signatories, like the University of Arizona (UA), by creating a pathway to successful reduction and goal attainment with the stabilization triangle method for carbon and water neutrality.
KEYWORDS: net zero, climate stabilization triangle, wedge diagram, carbon neutrality, campus master plan
Presented at:
2018 ARCC-EAAE International Conference
Published & professionally reviewed by:
Architectural Research Centers Consortium (ARCC)