Docking State Office Building: Revisiting the Energy Performance of the Modern Glass Tower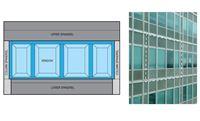 The Docking State Office Building, a 12-story state office building immediately adjacent to the historic capitol building in Topeka, Kansas, was completed in 1957 as one of the region's earliest examples of tall, curtain wall glazed modern architecture. The Docking's glass curtain wall was innovative for its time, and the design exhibits an elegant composition of stone planes and glazed skin.
In recent years, the Docking Building has been thrust into limbo, with competing plans to demolish, renovate, or sell the building. Problems with the buildings systems and glass facades have been cited in arguments to demolish the building. This paper examines the building's current and potential energy performance on a typical tower floor, analyzing the original curtain wall's thermal resistance and ability to use daylight. While it is believed that the building needs gutted and reskinned to be saved, the paper asserts that the original environmental hypothesis of the building is sound.
keywords: Curtain wall, envelopes, simulation, historic analysis
Presented at:
ARCC 2017 Conference – Architecture of Complexity (Salt Lake City, UT)
Published & professionally reviewed by:
Architectural Research Centers Consortium (ARCC)
University of Utah
Add comment
Log in
to post comments