DPR Construction Phoenix Regional Office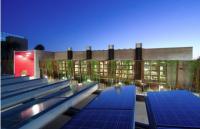 This entry contains a link to a detailed case study published by the Whole Building Design Guide. It is a 2013 Beyond Green Award recipient.
Since the completion of Aspect Communications World Headquarters in San Jose, CA, in 2001, DPR Construction, a national general contractor/construction manager, has been dedicated to being a world leader in sustainable construction. In 2006, they joined the EPA Climate Leaders and made a commitment to reducing company-wide GHG emissions by 25% per employee by 2015. In 2010, they built the first building in San Diego to be Net-Zero Energy and LEED Platinum.
Continuing this dedication, DPR Construction, when deciding to "build" a new Phoenix Regional Office, wanted to integrate their values and culture by creating a model for how to live and work in the desert, while providing a great employee environment, sustainably and cost effectively. The result, a 16,355 square foot office building, transformed an abandoned, distressed building in a redeveloping community of Phoenix into a modern sustainable facility. In doing so, they not only refurbished an old building but they broke down the perception barriers to Net-Zero Energy, transformed the conversation about environmental stewardship and 'doing what's right', and inspired an entire community to follow suit.
DPR Construction's Phoenix Regional Office is a prime example of urban revitalization and integrated sustainability, and speaks volumes to the successes that can be achieved when the entire team is integrated around owner driven goals. Acting as owner and contractor, DPR hand-selected the project team based on their sustainability expertise and track-record of collaboration; this included the architect, energy consultant, and numerous specialty subcontractors.
A majority of the team was engaged prior to purchase in order to evaluate the potential of different project sites. While many sites were evaluated, a single-story 40-year old, distressed adult-themed (retail) boutique, a visual reminder of the urban blight Phoenix struggled to revitalize, was ultimately chosen.
Published & professionally reviewed by:
Whole Building Design Guide technical committees