Federal Center South Building 1202 : A Whole Building Design Guide Case Study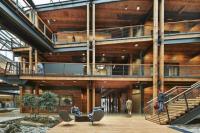 This entry contains a link to a detailed case study published by the Whole Building Design Guide. It is a 2012 Beyond Green Award recipient.
The Federal Center South 1202 building is the result of both the 2009 American Recovery and Reinvestment Act (ARRA) and the U.S. General Services Administration's (GSA) Design Excellence program which was established to engage the United States' most innovative architects to design the nation's federal buildings. With aggressive reuse and energy-performance requirements, the new 1202 building transforms a 4.6 acre brownfield site into a highly flexible and sustainable 209,000 SF regional headquarters for the U.S. Army Corps of Engineers (USACE) Northwest District.
Using a Design-Build delivery model required to get ARRA funds committed as quickly as possible, the Sellen Construction and ZGF Architects LLP team developed an integrated design and construction solution that fuses programmatic, functional, and aesthetic objectives with a new standard for high-performance, cost-effective, and sustainable workplace environments.
The "oxbow" design solution provides an ideal workplace environment for the USACE, emblematic of their mission of "Building Strong." The building's form—reflecting the natural oxbows past and present in the course of the adjacent Duwamish Waterway—is functional and infinitely flexible to accommodate the USACE's nearly constantly changing team-based work. The diagrid structure extending around the building meets GSA's security requirements for progressive collapse, ensuring the building will remain standing should one of the column elements be compromised. The exterior stainless steel shingle cladding emphasizes "Building Strong" and complements the nearby historic 1930s Albert Kahn-designed 1201 building. The dramatic, daylit wood-clad atrium—the "commons"—features timber reclaimed from the former warehouse that stood on the site and serves as the social heart of the building.
Published & professionally reviewed by:
Whole Building Design Guide technical committees