Governor George Deukmejian Courthouse (Long Beach Court Building) : A Whole Building Design Guide Case Study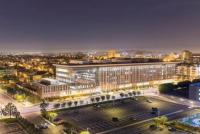 This entry contains a link to a detailed case study published by the Whole Building Design Guide.
The old Long Beach Courthouse was functionally and physically deficient, ranking among the worst in the State in terms of security and overcrowding. The building was outdated, overcrowded, not able to meet the State's current needs—and therefore incapable of meeting the region's growing demand for court services. The Governor George Deukmejian Courthouse is located at 275 Magnolia Avenue, Long Beach, a six-acre site one block northwest of the previous courthouse. The project site was acquired under a property exchange agreement with the City of Long Beach Redevelopment Agency.
The five-story building houses 31 courtrooms, as well as court administration offices, Los Angeles County judicial agency lease space, and retail leasable space. The building includes below-grade detention facilities and separate secure parking for judges. A five-level, open atrium, enclosed on the two exterior perimeters by a cable-supported glass curtain wall system, serves as the single entry point for all building occupants and provides access to a secured exterior courtyard. Clad in a deeply articulated curtain wall and elements of stone, the project spans two city blocks in downtown Long Beach. In addition to constructing the new building, the project team also renovated and expanded an existing 399,000-square-foot parking structure (approximately 1,000 parking spaces) built in 1974, which is presently operated and maintained by the Project Company through the term of the concession. The courthouse was designed to achieve LEED™ Silver certification by the U.S. Green Building Council but was ultimately certified as LEED Gold with no additional cost to the state.
Published & professionally reviewed by:
Whole Building Design Guide technical committees