Place-Bound Relationship: The Missing Components in the New Socialist Countryside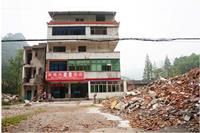 In 2006, China's central authority released a new policy calling for "Building a New Socialist Countryside." This policy embraces a set of ideas that aim to boost modern agriculture, increase rural affluence, advance infrastructure construction, and improve public services and democracy. The local practice, however, turns this broad concept into a ground up rebuilding of a new countryside where rows of identical apartment buildings rapidly emerge in rural China. Meanwhile, rural residents are relocated to new settlements and historical and vernacular houses are demolished.
Using Yanxia village in Zhejiang Province as a case study, this paper examines the local deployment of this policy. Drawing upon archival research and ethnographic fieldwork, this paper argues that the newly constructed settlement fails to provide a satisfactory home environment for the local residents because of its detachment from the existing cultural landscape. This detachment fundamentally breaches the place-bound relationship between the residents and the vernacular settlement, which is essential in constructing the meaning of home for residents of Yanxia.
keywords: Home, Vernacular Architecture, Tradition, Modern Development, Rural China
Presented at:
ARCC 2017 Conference – Architecture of Complexity (Salt Lake City, UT)
Published & professionally reviewed by:
Architectural Research Centers Consortium (ARCC)
University of Utah
Add comment
Log in
to post comments