Strategic Computing Complex : A Whole Building Design Guide Case Study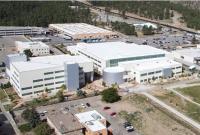 This entry contains a link to a detailed case study published by the Whole Building Design Guide.
The Strategic Computing Complex (SCC) is a 300,000 square foot facility built specifically to house world class super computers and a nuclear weapons design staff. The facility design staff had to carefully consider and balance safety, security, efficiency, life cycle costs, working conditions, and the need for flexibility to address changing computing technology. The project went through the planning phases from late 1997 through 1999. The design/build contract was signed in October 1999 and the building was completed in December 2001. The facility was constructed near the core of the Los Alamos National Laboratory on an existing parking lot.
Published & professionally reviewed by:
Whole Building Design Guide technical committees