Visible and Invisible Infrastructures: Alternative Futures in Resiliency, Failure and Design Pedagogy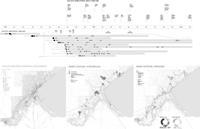 This paper explores the pedagogic and community initiative sponsored by a multi-year interdisciplinary (M.Arch and MLA) design studio project entitled "Design Duluth." This research investigates how complex infrastructures are networked (or not), constructed (or fragmented), dynamic (or static) within the complex city landscape. The project is rooted in developing critical and creative responses to issues of resiliency and failure in and across architectural, ecological, and urban systems.
Strategies employed in the semester projects included requirements for the students to work across multiple systems and scales, for projects to address long time frames (programs and designs had to be projected over 50+ years), the adaptation and co-option of existing systems, and an emphasis on the design of hybrids (that encompassed soft and hard infrastructures as well as policy).
keywords: resiliency, pedagogy, Duluth, architecture, landscape
Presented at:
ARCC/EAAE 2014 International Conference on Architectural Research (Honolulu, HI)
Published & professionally reviewed by:
Architectural Research Centers Consortium (ARCC)
University of Hawaii at Manoa