Chemeketa Community College Health Sciences Complex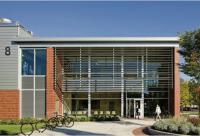 This entry contains a link to a detailed case study published by the Whole Building Design Guide. It is a 2013 Beyond Green Award recipient.
The Chemeketa Health Sciences Classroom Building is particularly significant because it was designed as a major new multi-story building without any air conditioning. The means to achieve this included natural ventilation and night flush, comprehensive daylighting, extensive solar shading, additional mass, and a super insulated skin, all resulting in a modeled EUI of 27, actual measurements indicate EUI of 31. One of the major challenges to implementing these strategies was convincing the College that the building would be comfortable all year round. A transparent process was key, along with ample detailed computer simulations. It also required some education in terms of the client so they were willing to accept a greater temperature range. We shared all of the data we developed and took them on tours of similar buildings. We showed them what the indoor temperatures would be when there was a week of hot weather. The studies included CFD of the natural ventilation air flow, TAS studies of the impact of mass on the temperature, daylight studies of light distribution within typical rooms, and studies of different shapes of exterior sun shades.
Published & professionally reviewed by:
Whole Building Design Guide technical committees
Add comment
Log in
to post comments