Saint-Gobain and Certainteed North American Headquarters: A Whole Buildings Design Guide Case Study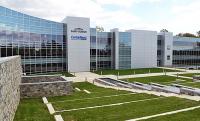 This entry contains a link to a detailed case study published by the Whole Buildings Design Guide. It is a 2017 Beyond Green Award recipient.
This article offers a detailed description of a corporate headquarters located on a 65–acre suburban site, which previously contained two existing four-story buildings joined by a four-story connecting link. The project was completed in two phases: core and shell and interior fit-out. The core and shell project included major renovation of the existing building, with a 40,000-square-foot addition expanding the existing link. The existing structural system has been maintained and reused in the new design. About 15% of the project is classified as new construction and 85% as renovation. The project achieved USGBC's LEED Platinum certification for both Commercial Interiors and Core and Shell.
The headquarters features innovative building materials from the Saint-Gobain family of companies, including glazing, roofing, insulation, gypsum wallboard, and acoustical ceilings and wall panels, and serves as a living laboratory so employees can evaluate products while making improvements. The project achieved 19% recycled content, 16% regional materials, and 67% FSC-certified wood. (See the CS and CI Materials Lists .)
Another major goal was to provide a high-performance, healthy work environment. The interior design minimizes barriers and utilizes flexible configurations to encourage collaboration. The south and west façades utilize Saint-Gobain's SageGlass dynamic glass, which tints on demand to adapt to the sun's intensity while providing access to natural daylight and outdoor views and preventing glare and heat gain.
This building is designed to meet the needs of a dynamic workforce, incorporating 116 collaborative meeting spaces, 800+ workstations (all with outdoor views), open executive offices, an acoustically sound cafeteria, and an industry-leading fitness facility,
Published & professionally reviewed by:
Whole Buildings Design Guide technical committees
Add comment
Log in
to post comments