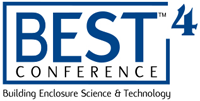 The BEST4 Conference, held in Kansas City on April 13-15, 2015, is the fourth in the series of Building Enclosure Science and Technology conferences. The BEST conferences bring together building industry professionals to share information on building communities, structures, and systems designed for high energy efficiency, good indoor climate and long-term performance. They are conducted by the National Institute of Building Sciences Building Enclosure Technology and Environment Council (BETEC) in concert with its Building Enclosure Council (BEC) chapter network. For more information, visit www.thebestconference.org.
Table of Contents
Session 1 Plenary
Chair: Philip Schneider, AIA
Session 2.1 Commissioning and Quality Management in Design
Chair: Brian Stroik
Session 2.2 Next Generated of Integrated Enclosures
Chair Mark Bombberg, D Sci, Tech D
Session 3.1 Living Buidling Challenge
Chair: Jim Hanford
3.2 Forum: Performance Testing for QA and Commissioning
Jan Kosny, PhD, moderator
4.1 Design Considerations
Dudley McFarquahar, PE
Session 4.2 Fenestration 2
Stanley Yee, Chair
Session 5 BEC-sponsored Plenary Session: Form Versus Function.
David Herron, AIA, moderator
Session 6.1 Smoldering Issues of
Fire Performance Evaluation
Richard Keleher, FAIA
Session 6.2 Fenestration
William Du Pont
Session 7.1 New Masonry Materials
Dariusz Gawin, D Sci, PhD
Session 7.2 Glazing and Fenestration Stanley Yee Session 8.1 Multi-Unit Residential Buildings: Management, IAQ, and Retrofits Ali Fallahi, Chair Session 8.2 The Active Side of Passive Houses Stephanie Stubbs, Assoc. AIA, PMP Session 9.1 Performance of Materials and Systems Paul Totten, PE, Chair Session 9.2 High-Performance, Ecological Building Envelopes Mark Perepelitza, Chair Session 10.1 Performance of Materials and Systems 2 Jan Kosny, Chair Session 10.2 Evolving Enclosure Constructions Michael Aoki-Kramer Session 11.1 New Concepts for Walls Sam Yuan, Chair Session 11.2 Renovation and Repairs David Yarbrough, Chair Session 12.1 Evolving Enclosure Constructions 2 Marcin Pazera, Chair Session 12.2 Insulation and PCM Mario Medina, Chair